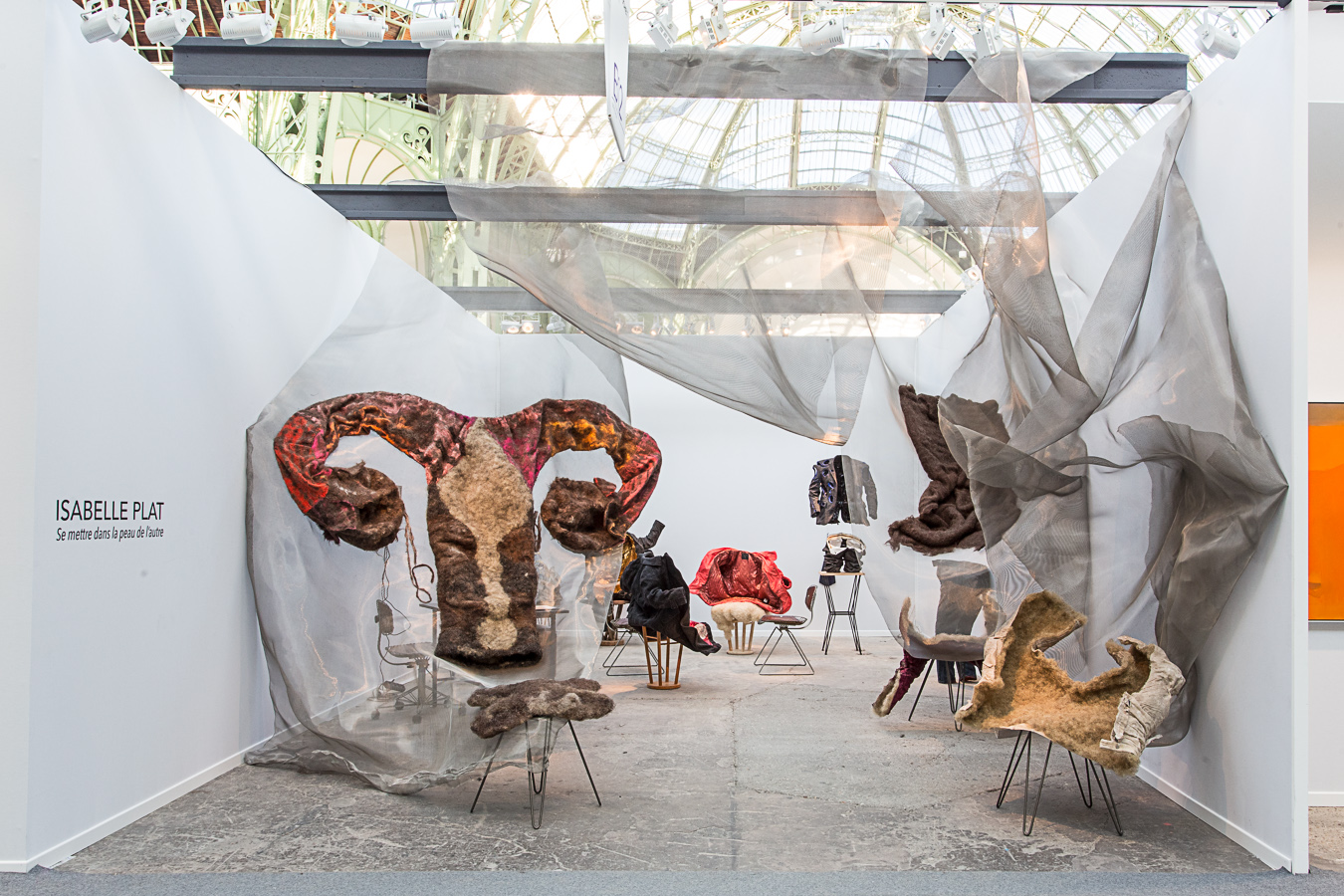 ART PARIS 2019
For Art Paris Art Fair 2019 Galerie Eric Mouchet presents Isabelle Plat in a solo show, 'To stand in someone else's shoes', exhibiting a series of unseen works specially created for this occasion in 2018 and early 2019.
As a follow-up to her study of "usable sculpture" and "objects of belonging" she works with the idea that our exterior bodies, natural or artificial, are permeable and made up of many different layers. In this show, the artist choses to replicate human organs by creating pieces that use unusual textures and used clothing.
The first group includes representations of a double, reversible genital system, male and female, in human and animal keratin, and a sculpture of a pair of bright and translucent lungs. While the second is represented by a choice of jackets and trousers that belong to friends of the artist, the pieces of clothing have been solidified according to their form. Visitors are invited to slip into the clothes and experience what it feels like "to stand in someone else's shoes".
Borne out of the artist's dream, the reversible male and female genitalia is a monumental sculpture that Isabelle Plat has gradually built up. She empirically adapts her technique to fit the results of the materials used together: human hair, sheep fleece intertwined with silk. This sculpture is a skin without a skeleton, which has neither interior nor exterior, which can never be totally understood just by looking, tempting the viewer to put their arm in to then pull the insides out.
As we can see, textures and materials hold a primordial meaning for Isabelle Plat. Each piece follows its own individual path. The pair of lungs, a piece that is both bright and translucent, firstly evokes a feeling of fresh, clean air…until you notice that it is a giant ashtray that diverts the gaze of the spectator from the sculpture, inwards to think of their own lungs.
The familiarity and foreignness offered by the "usable sculptures" are essential in the creation of materials from "objects of belonging" such as human hair or clothing worn by identified people. All the work of the artist, as much a humanist as an ecologist or feminist, focuses on this more fluid second layer – clothing and hair – which constitute a strange second skin.
For her sculptures made from clothing, the artist "gives back the body" of the donor by fighting against gravity with the materials used, looking for the right fall of each piece of fabric so that it keeps the shape of its former occupant and reflects an essence of their life. "I shape this garment in such a way as to offer the visitor the opportunity to place themselves in the sculpture, thus enabling them to 'stand in someone else's shoes''', an empathetic requirement in all its forms for the survival of humanity at the beginning of the 21st century